Do you dream of having a cosy home that has a constant temperature in every room, a home where you'll be comfortable and your children healthier?
At Rivercity Gas we supply, install and service Brivis ducted hot air central heating systems. We recommend Brivis as New Zealand's leading gas ducted central heating solution, building a reputation for innovation, reliability and quality for over 50 years.
GET A FREE QUOTE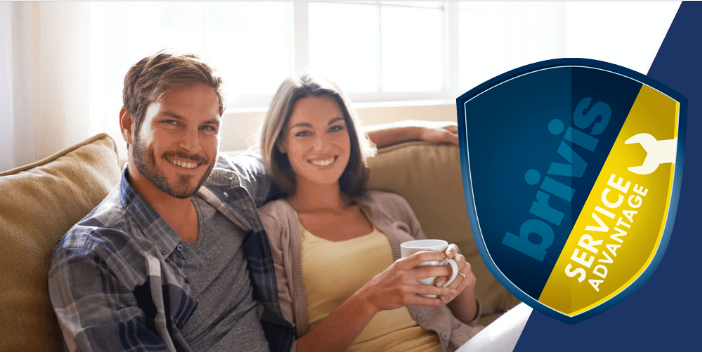 ---
Why choose Brivis Ducted Air gas central heating?
Fast
Your Brivis Ducted Gas Heater will warm up your entire home before you know it, no matter what the temperature is outside.
Efficient
Brivis supply a full range of 3, 4 and 5 star heaters as well as the StarPro 6 Ducted Gas Heater which can save you up to 30% on your next energy bill.
Reliable
There are still original Brivis heaters working today, proving their reliability over 50 years of heating New Zealand homes.
---
Cost Effective
A Brivis system uses a single heat source to warm your entire home, using far less energy than running individual gas or electric heaters in every room, saving you money.
---
Discrete
Unlike big, ugly heat-pumps, you'll barely notice your Brivis at all. The only part you'll see are the warm air outlets flush-mounted in the floor or ceiling of each room, neatly tucked away behind furniture.
---
Quiet
Your Brivis system makes barely any sound as it draws in air from your home, filters and warms it, before releasing it back into each room.
---
How does it work?
The beauty of central heating is what you don't see, it's all hidden within the walls of your home - all you see are discrete vents to let the heat out and a controller to deliver controllable warmth to the whole home.
Brivis Ducted Gas Heating comprises a heating unit connected to a series of outlets via a system of ducts. The outlets & ducts are strategically placed throughout your home, either in the floor or ceiling. The position of the heating unit depends on your house.
The ducts which connect the outlets to the heating unit are neatly tucked away out of sight. A wall controller lets you set up your temperature for the whole home or even down to a single room.
---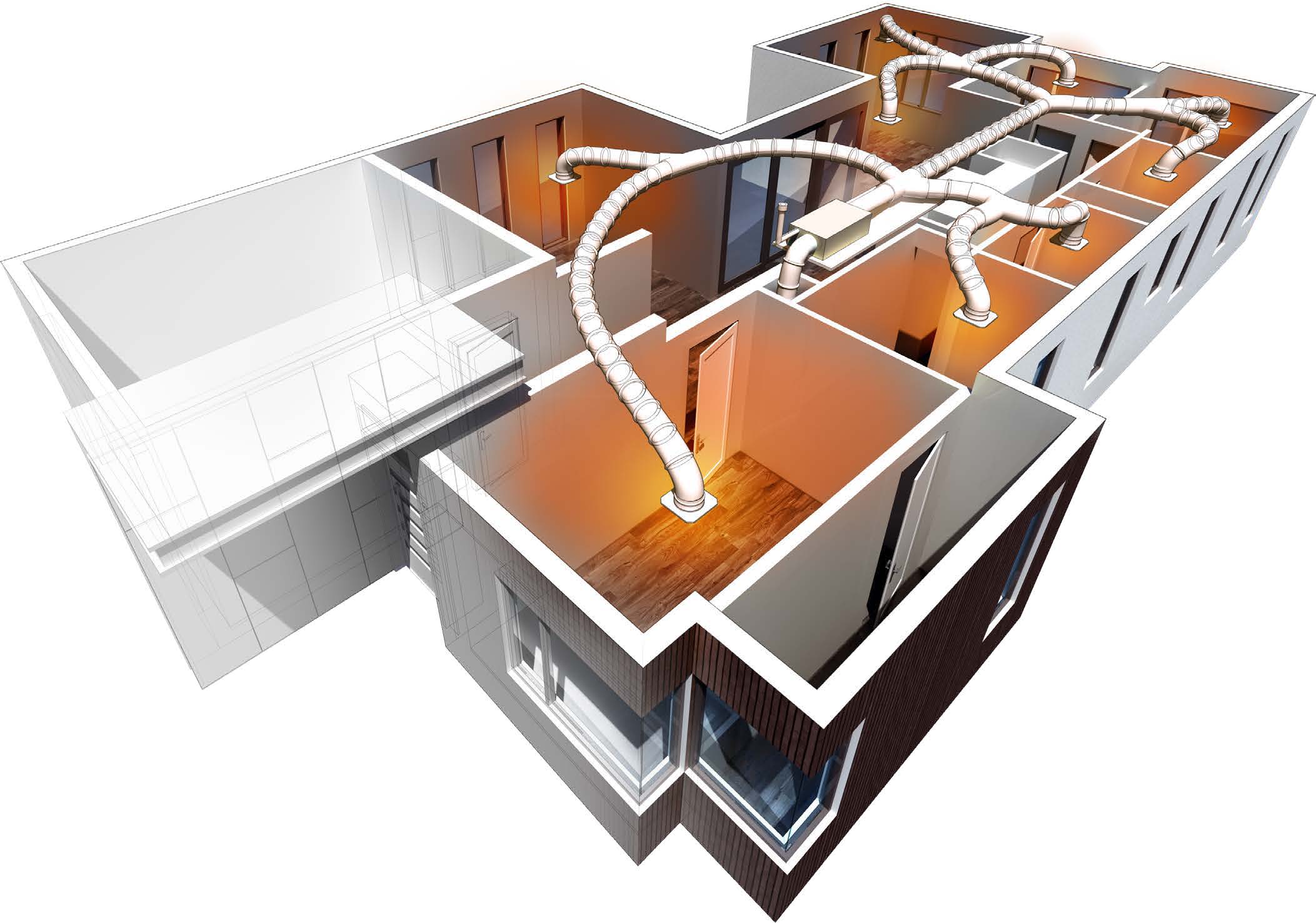 ---
A detailed graphic showcasing how the ducts work to heat every room in your house.

---
Where does the heat come from?
The system takes the air that's already in your home and draws it through the heating unit where it is filtered and warmed. You can set the temperature in a single room or the entire house with the wall controller. The ducts connecting the vents to the central heating unit are kept out of sight in the ceiling cavity or under the floor.
---
How does it get to all the rooms in the house?
A steady, gentle supply of warm air is pushed through your home via the outlets and duct network. The system switches off automatically once the house has reached your desired temperature.
---
How do I control the temperature?
A consistent warm temperature is maintained throughout the home via the controller continuously monitoring the air temperature and controlling the Brivis Ducted Gas Heating system. Only a small amount of energy is used with our higher efficiency models, keeping your home at a comfortable level by modulating the gas as the house heats up.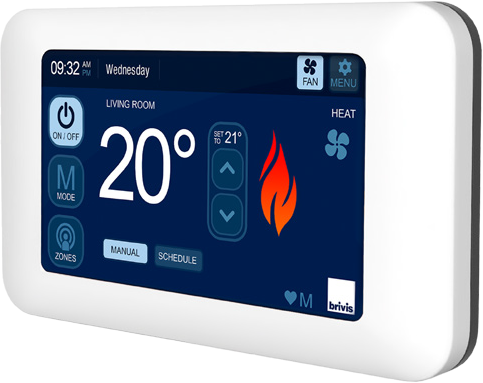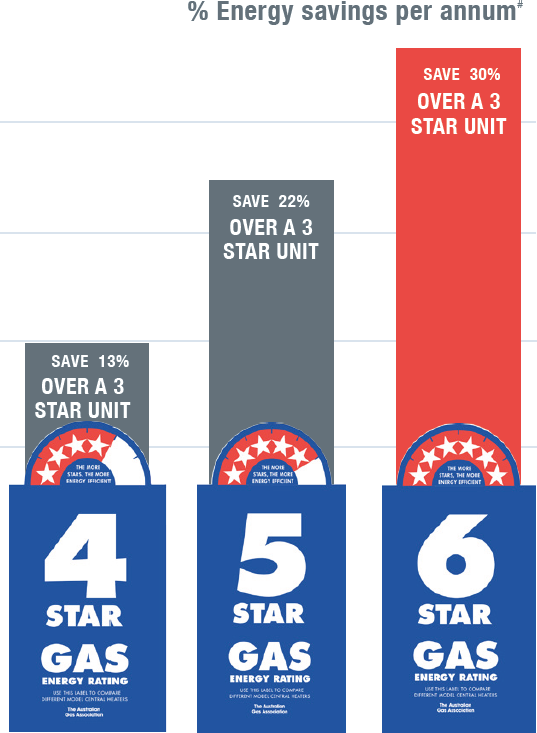 How efficient are the systems?
Depending on the model, your Brivis Ducted Gas Heater will be rated from 3 to the maximum of 6 stars.
Using the star rating on your Ducted Gas Heater will help you measure how much gas your heater is using. It's a guide outlining the cost of running your heater in annual energy usage.
Your savings will increase approximately 10 percent on average per star, meaning the higher the star rating, the more efficient the heater and the bigger your annual savings will be.
---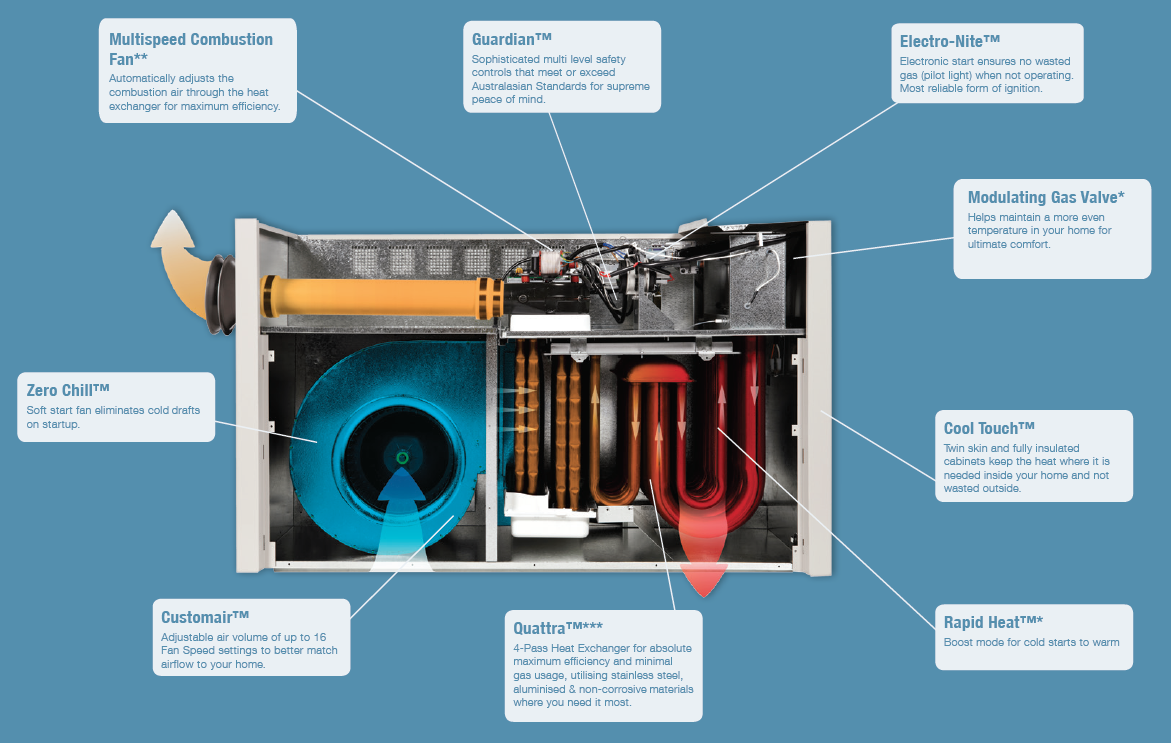 ---
We're your Specialist Brivis Dealer
Rivercity gas is a Specialist Brivis Dealer so we're experts in putting together and tailoring a system to suit your home.
Brivis's design and manufacturing process is accredited to the New Zealand Standard AS/NZS ISO9001 and their award winning products have up to 5 year guarantees.
Talk to us today about the benefits of a Brivis ducted hot air central heating system for your home. For more info, check out the Brivis website.